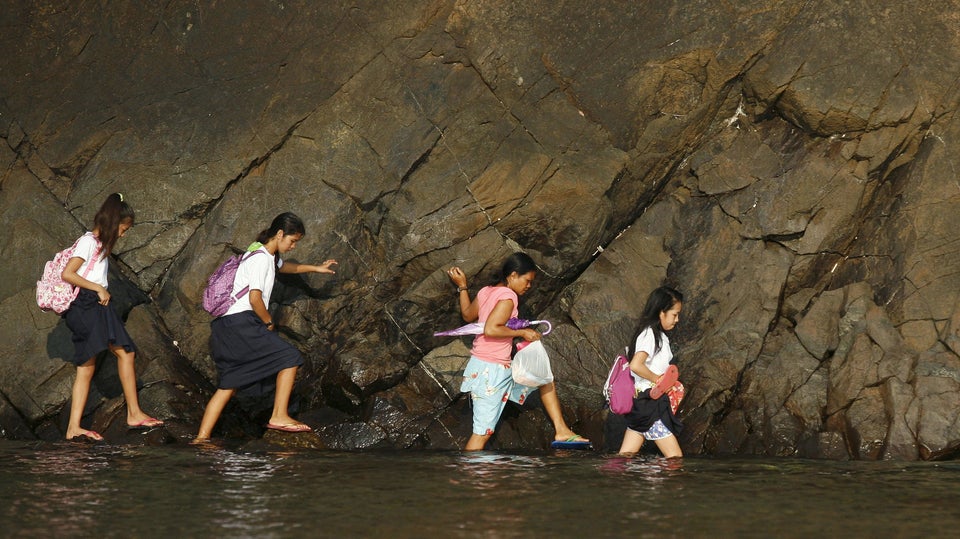 Every child deserves an education. Unfortunately, young girls and women ― half of the world's population ― are rarely given the same opportunities as boys to learn, study and succeed.
Globally, 65 million girls are not in school. Out of the 774 million people who are illiterate around the world, two-thirds are women. There are 33 million fewer girls in primary school than boys. And education really does save lives: If every woman around the globe had a primary and secondary education, childhood deaths would be cut in half. 
To celebrate International Women's Day this Women's History Month, HuffPost rounded up 55 photos of girls going to school around the globe.
The photos feature girls of all ages from Nigeria, Syria, Pakistan, France and more getting an education. Whether they're walking to school with friends or excited about learning something new in class, these photos are proof that all children should have the right to get an education, no matter their gender.
1 Russia

Getty Images

School girls attend a lesson at a school in the Tatar village of Belozyorye in Mordovia, Russia, on Feb. 1, 2017.

2 India

Getty Images

Indian Muslim girls recite the Koran at the Madrasatur-Rashaad religious school in Hyderabad, India, on June 19, 2017. 

3 Japan

Getty Images

School girls walk home at Ebisu district in Tokyo, Japan, on Sept. 4, 2017. 

4 Zimbabwe

Raphael Huenerfauth/Photothek/Getty Images

A young schoolgirl listens to a concert at the Glen Forest Development Centre on December 3, 2012, in Harare, Zimbabwe.

5 Yemen

Reuters

Girls attend a class at their school (damaged by a recent Saudi-led air strike) in the Red Sea port city of Hodeidah, Yemen, on Oct. 24, 2017. 

6 Sri Lanka

Reuters

Schoolgirls stand in front of the stock display board during their visit for an education program at the Colombo Stock Market in Colombo, Sri Lanka, on Nov. 24, 2017.

7 Syria

Reuters

Girls attend a war safety awareness campaign, given by Civil Defense members, inside a school in the rebel-held besieged city of Douma, in the eastern Damascus suburb of Ghouta, Syria, on May 2, 2017.

8 Philippines

Lorgina Minguito / Reuters

A woman accompanies some students as they wade in the shallow part of a rocky beach to their school to attend the first day of classes in Sitio Kinabuksan, Kawag village, Subic, Zambales Province, north of Manila, June 1, 2015.

9 Somalia

SIMON MAINA via Getty Images

Pupils walk on September 10, 2013, inside the Gambool high school in the Garowe region, Somaliland. The school is a project funded by the European Commission and has the capacity for 1,750 pupils, both boys and girls.

10 Gambia

Thierry Gouegnon / Reuters

Two school girls walk up Kairaba avenue in Banjul, Gambia, Jan. 24, 2017.

11 India

Jonas Gratzer/LightRocket/Getty Images

Children sit on the ground with a temporary roof to protect them against the strong sun in a small village called Bilwadi in the state of Rajasthan. The children who come from nomadic families are 6-14 years old and are taught mathematics as well as reading and writing in Hindi. This photo was taken on Oct. 29, 2014.

12 Hong Kong

ANTHONY WALLACE via Getty Images

School students walk down a street in Hong Kong on July 4, 2016.

13 Iraq

Getty Images

Two schoolgirls at a school in West Mosul, Iraq, on Aug. 2, 2017.

14 Russia

Getty Images

Children with schoolbags near a shoe stall in the settlement of Teriberka on the Arctic coast of north-west Russia, on April 27, 2017.

15 Brazil

Yasuyoshi Chiba/AFP/Getty Images

Girls attend a class at a school in the forest in Xapuri, Acre State, in northwestern Brazil, on Oct. 8, 2014.

16 South Africa

Siphiwe Sibeko / Reuters

School girls walk past riot police standing guard outside Hillbrow magistrate court during an appearance of students who were arrested during a protest demanding free education at Johannesburg's University of the Witwatersrand, South Africa, Oct. 12, 2016.

17 Ethiopia

Getty Images

Young girls line up to enter the primary school in Sheno, Ethiopia, on Oct. 18, 2017. 

18 Afghanistan

Sham Marai/AFP/Getty Images

Afghan schoolgirls board a bus in Qara Zaghan village in Baghlan province on May 7, 2013.

19 Palestine

Getty Images

Palestinian schoolgirls wait for a bus that will take them to school outside their home in Gaza City on Sept. 7, 2017.

20 Russia

Natalia Kolesnikova/AFP/Getty Images

High school graduates celebrate the last day of their classes in Moscow's Red Square on May 25, 2011.

21 Germany

Konzept Und Bild/Ullstein Bild/Getty Images

Students of the 7th and 8th classes swimming during a school triathlon on June 19, 2010, in Berlin, Germany.

22 Haiti

Thony Belizaire/AFP/Getty Images

Brazilian UN peacekeepers distribute juice and crackers to students at the Immaculate Conception School Feb. 6, 2013, in Port-au-Prince, Haiti.

23 Kenya

AFP via Getty Images

Two schoolgirls walk toward a commuter train in Kikuyu, Kenya, on Sept. 13, 2016. The railway in Kenya has a long history, with the British laying the country's first rail in 1896.

24 Iran

Ahmed Jadallah / Reuters

Schoolgirls walk down the street in former Iranian President Mahmoud Ahmadinejad's birth village of Aradan, east of Tehran, March 12, 2008.

25 England

Christopher Furlong/Getty Images

Withington Independent Girls School students celebrate getting good grades on their A Level exams on August 15, 2013, in Manchester, England.

26 Morocco

FADEL SENNA via Getty Images

A Moroccan girl walks to the school in Taghzirt, an isolated village in the el-Haouz province in the High Atlas Mountains south of Marrakesh on March 4, 2016. 

27 Central African Republic

Getty Images

High school girls walk in the city of Birao in the Central African Republic on Dec. 21, 2017.

28 Spain

Marcelo Del Pozo / Reuters

Schoolchildren wearing costumes walk during a school excursion to a permanent exhibition at Velazquez research centre in Seville, May 11, 2009.

29 Philippines

Reuters

A girl cries while looking for her mother during the first day of classes at the Rosauro Almario elementary school in Manila, Philippines, on June 5, 2017. 

30 South Korea

Ed Jones/AFP/Getty Images

Students take the annual Scholastic Aptitude Test at the Poongmun high school in Seoul on November 13, 2014. 

31 Ecuador

Eitan Abramovich/AFP/Getty Images

Girls pose at a rural school at La Palizada in Tulcan, Carchi province, in Ecuador close to the Colombian border on Nov. 7, 2012.

32 Palestine

Getty Images

Palestinian schoolgirls attend a class at a school belonging to the United Nations Relief and Works Agency for Palestine Refugees n Gaza City on Jan. 22, 2018.

33 Bangladesh

Reuters

A Rohingya refugee girl looks out from a makeshift school at the Palongkhali refugee camp near Cox's Bazar, Bangladesh, on Dec. 23, 2017. 

34 Nepal

Education Images/UIG/Getty Images

Schoolgirls in orange uniforms walk to school along a trail around Manaslu Trek, Nepal.

35 North Korea

Eric Lafforgue/Getty Images

Primary school students in North Korea on May 16, 2009.

36 Cuba

Konzept Und Bild/Ullstein Bild/Getty Images

Schoolgirls wearing school uniforms on the way home on June 1, 2009, in Trinidad, Cuba.

37 Syria

Reuters

Girls dance to celebrate the end of the school year in the rebel-held besieged city of Douma, Syria, on May 22, 2017.

38 China

China Photos/Getty Images

Students read outdoors at the Jigmei Gyaltsen Girls Welfare School on April 21, 2006, in Maqin County of Guoluo Tibetan Autonomous Prefecture, Qinghai Province, China. The Jigmei Gyaltsen Girls Welfare School, established in 2005, was built to provide free education for impoverished female students in pasturing areas

39 Kenya

Tony Karumba/AFP/Getty Images

Schoolgirls participate in a lesson in Kilifi, Kenya, on June 31, 2010. The students are part of an initiative called "Moving the Goalpost" which sponsors female students from the Kilifi district, where drop-out rates are high due to early marriages, teen pregnancy and a traditional bias toward educating male siblings over female.

40 Bangladesh

Majority World/UIG/Getty Images

Children learning their lessons at home, in a village in Netrok.

41 Indonesia

Beawiharta Beawiharta / Reuters

Students hold on to the side steel bars of a collapsed bridge as they cross a river to get to school at Sanghiang Tanjung village in Lebak regency, Indonesia's Banten village, Jan. 19, 2012.

42 China

Johannes Eisele/AFP/Getty Images

Chinese children attend a class at the Jinqao Center Primary School in Shanghai on Sept. 1, 2014.

43 Nigeria

Reuters

Girls walk to school in the northeastern city of Damaturu, Nigeria, on Feb. 23, 2018. 

44 Pakistan

Reuters

Girls in uniform sit along a sidewalk while waiting for school van in Karachi, Pakistan, on Nov. 8, 2017.

45 Afghanistan

Wally Skalij/Getty Images

––Afghani girls raise their hands to answer a question in math class. ––

46 Vietnam

Chau Doan/LightRocket/Getty Images

Hmong students exercise at Hoang Thu Pho primary school in Bac Ha, Lao Cai, Vietnam.

47 India

Getty Images

Muslim schoolgirls read outside during a break in Kashmir, India, on June 7, 2017.

48 France

Patrick Hertzog/AFP/Getty Images

Girls hug each other on the first day of school outside the European School of Strasbourg in Strasbourg, France, on Sept. 1, 2015.

49 Mozambique

Thomas Trutschel/Photothek/Getty Images

Students in school uniforms pose for a photo on Sept. 29, 2015, in Beira, Mozambique.

50 Iraq

Thaier Al-Sudani / Reuters

Girls walk past a U.S. soldier on a patrol with the Iraqi police in Baghdad's Ameen district, Oct. 14, 2008.

51 Gaza

MAHMUD HAMS via Getty Images

Palestinian girls walk past buildings which were destroyed by Israeli strikes on their way to school in the Shejaiya neighbourhood of Gaza City on Sept. 14, 2014, on the first day of the new school year.

52 Mexico

Pedro Pardo/AFP/Getty Images

Children play during a break after returning to school following a two-month strike of teachers due to criminal threats, in Acapulco, Mexico, on Jan. 27, 2015.

53 The United States

Ann Hermes/The Christian Science Monitor/Getty Images

Students listen to instructions during a coding class at The Young Women's Leadership School of Astoria in New York on Sept. 17, 2015.

54 Ghana

Melanie Stetson Freeman/The Christian Science Monitor/Getty Images

Schoolgirls head home through their cocoa-producing village on Nov. 11, 2015, in Akyekyere, Ghana.

55 Thailand

Thierry Falise/LightRocket/Getty Images

Young female students in a "pondok," a school providing general and religious studies, on June 29, 2015, in Narathiwat, Thailand.
SUBSCRIBE AND FOLLOW
Get top stories and blog posts emailed to me each day. Newsletters may offer personalized content or advertisements. Learn more
Newsletter