in 2017, bjarke ingels group (BIG) revealed plans for a new micro-school in new york. now, a year later, the first photographs of the project have been revealed with the school term well underway. according to BIG, the design for WeGrow — the first school of office-sharing brand WeWork — seeks to 'undo the compartmentalization often found in traditional school environments and reinforces the significance of engaging kids in an interactive environment'.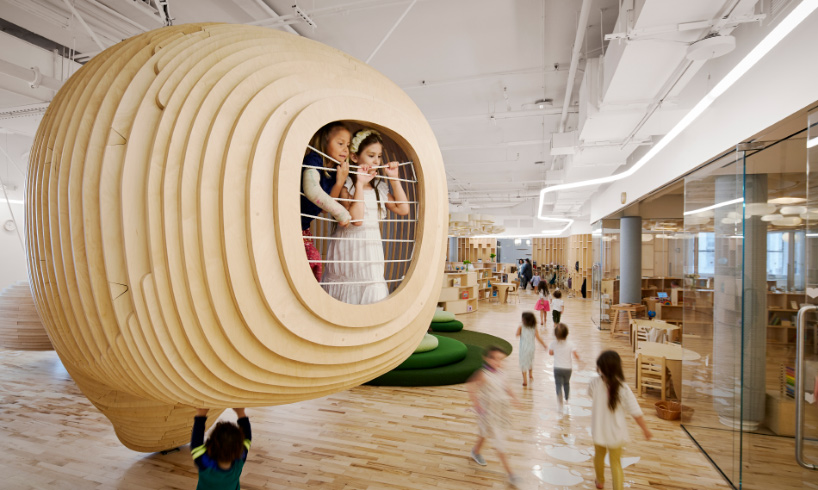 the design starts from the premise of a school universe at the level of the child
image by dave burk (also main image)

conceived as a 'school universe at the level of the child', the interior comprises a field of super-elliptic objects, which together, form a 'learning landscape that's dense and rational — yet free and fluid.' modular classrooms, tree houses, and a vertical farm have been designed by BIG to promote an inclusive and collaborative learning environment. meanwhile, acoustic clouds, natural materials, and neutral colors hope to create a calm setting focused study.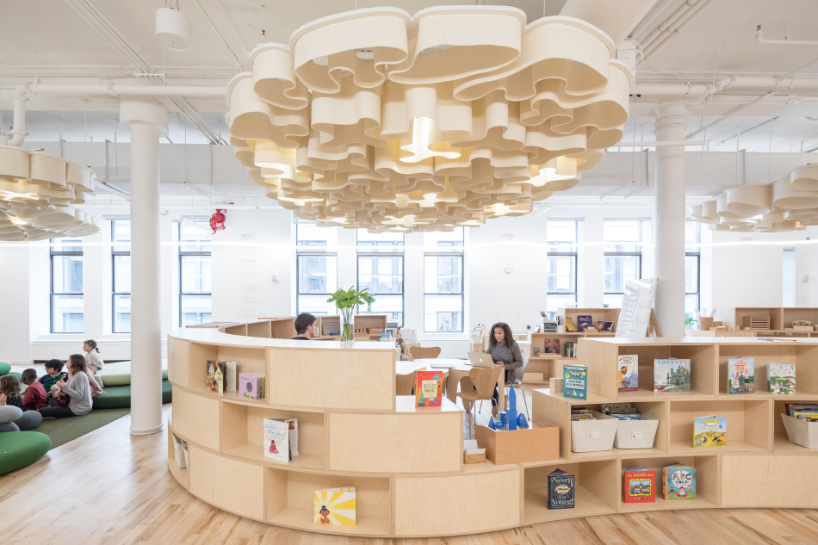 BIG has designed a series of architectural environments
image by laurian ghinitoiu

'WeGrow was created to unleash the creative potential of all generations through design,' explains bjarke ingels, who is also chief architect at WeWork. 'with this first location in new york city, we have created a space to facilitate and accommodate WeGrow's transformative approach to learning because as life evolves, so should the framework in which we live in. children realize they have agency and when design is less prescriptive and more intuitive — we don't have to tell kids how to use the space and every interpretation of how they use the space is good.'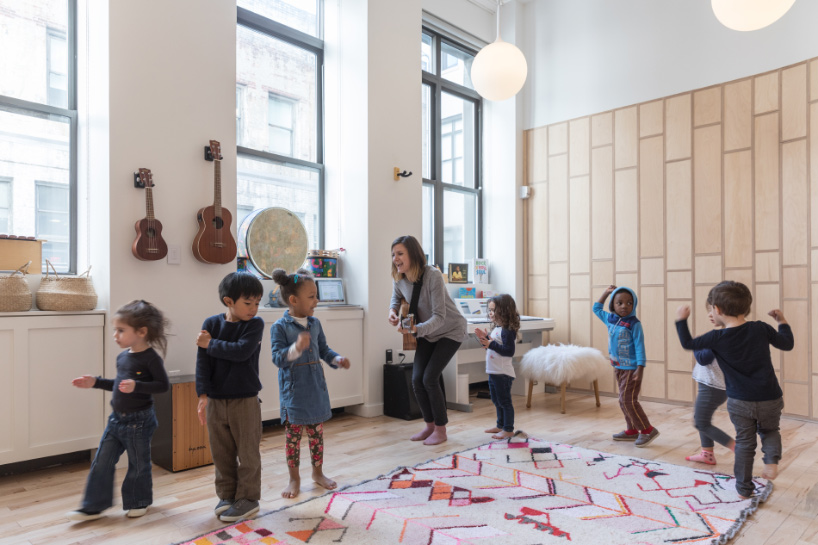 the school welcomes children ages three through nine
image by laurian ghinitoiu

most of the partitions inside the school are shelves raised to the level of the child, allowing natural light to reach deep inside the building. three different shelving levels for each age group curve occasionally to create various activity pockets and give a feeling of comfort, safety and community, while allowing teachers to have full perspective of the space at all times. meanwhile, each learning station includes furniture with details and materials designed to optimize the educational environment.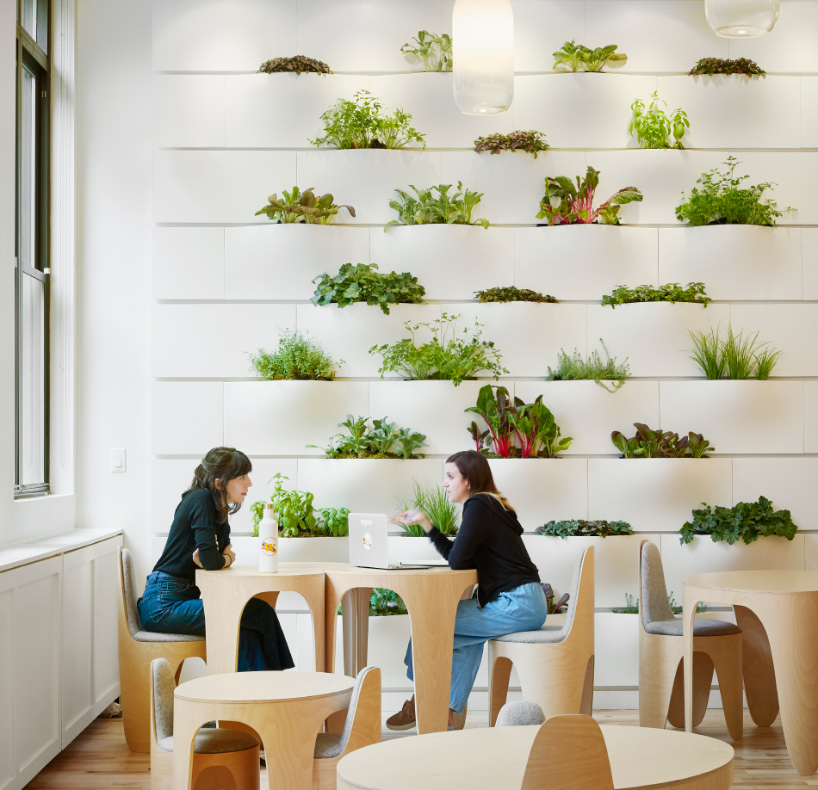 natural materials have been paired with neutral colors
image by dave burk

rebekah neumann, WeWork's founding partner and chief brand officer, describes WeGrow as 'a new conscious, entrepreneurial school committed to unleashing every child's superpowers.' 'we hope to reimagine the very idea of a classroom as elementary school-age children begin to identify their callings and apprentice under employees and members already living that dream,' says neumann. 'curriculums will be created around meaningful local cultures and environments so that learning can be hands-on and experiential.'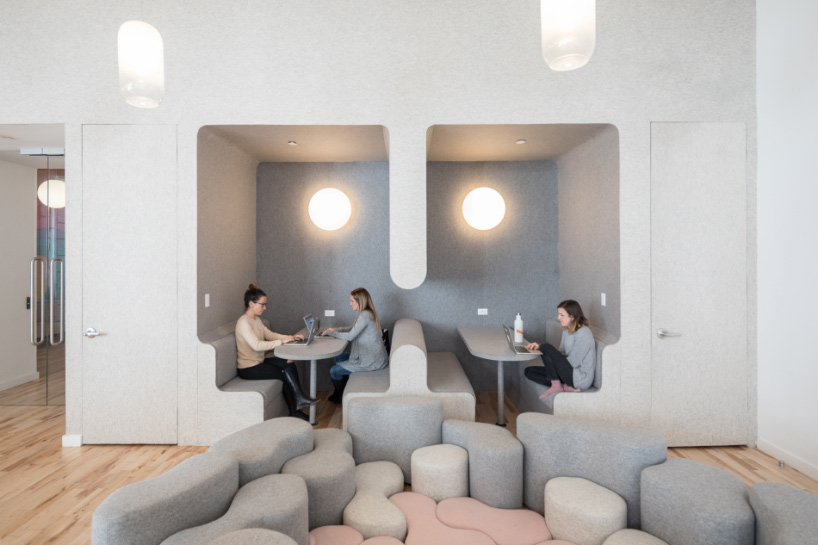 teachers and parents share the lobby with the children
image by laurian ghinitoiu

now open, the first WeGrow is located in new york's chelsea neighborhood and will welcome children ages three through nine, adding ages two and older next year. the school, which has multiple scholarship programs available, is open to WeWork members, employees, and local communities.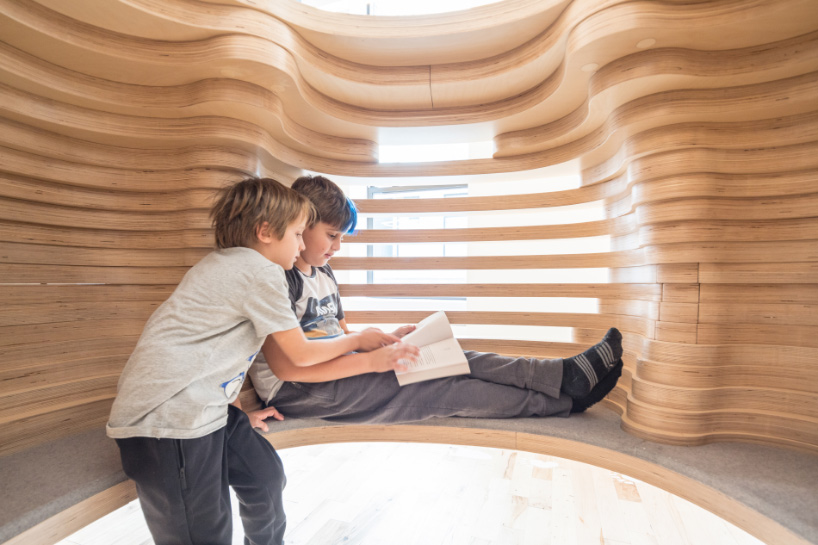 reading hives contribute towards organic learning environment
image by laurian ghinitoiu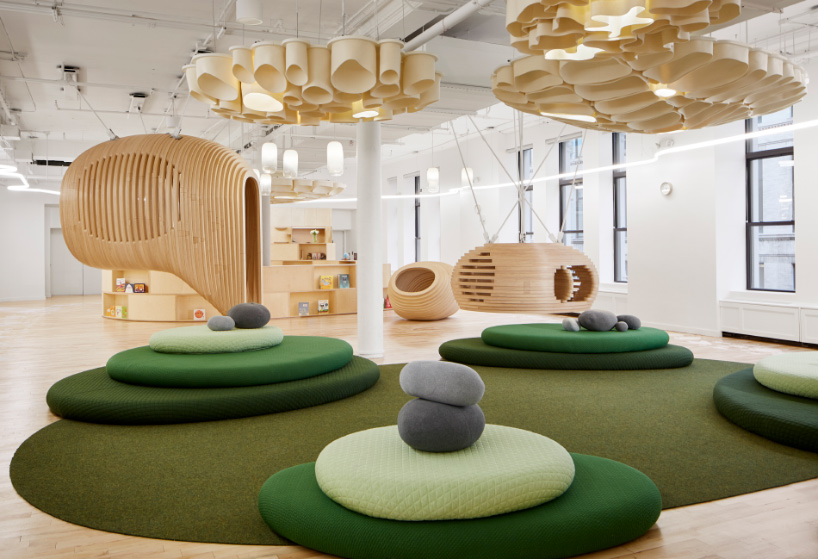 the first WeGrow school opened in fall 2018
image by dave burk

project info:

client: WeWork
collaborators: WeWork, environetics group inc., cosentini associates, william vitacco associates ltd., digifabshop, bednark studio, laufen, ketra, febrik
location: new york, USA
size: 10,000 sqf / 930 sqm

BIG – bjarke ingels group
partners-in-charge: bjarke ingels, daniel sundlin, beat schenk
project leader: otilia pupezeanu
project architect: jeremy babel
team: bart ramakers, douglass alligood, erik berg kreider, evan saarinen, fabian lorenz, filip milovanovic, florencia kratsman, francesca portesine, il hwan kim, jakob lange, ji young yoon, kristoffer negendahl, josiah poland, megan ng, mengzhu jiang, ryan yang, stephen kwok, terrence chew, tore banke, tracy sodder

Save

Save

Save

Save

Save

Save

Save

Save

Save

Save