Mogadishu, Somalia (CNN)Fatumata Hassan sits in the opening of her ramshackle shelter. She is tired and gaunt.
Her three-year-old daughter Shankaron sits on her lap, eyes blank and scared. It is a look that is far too common in these parts.
The past days have been cruel on Fatumata and her two young children -- forced to walk over 100 miles in search of food, water and sanctuary.
Only now, in Baidoa, home to a camp for displaced Somalis, does she find the smallest of solace.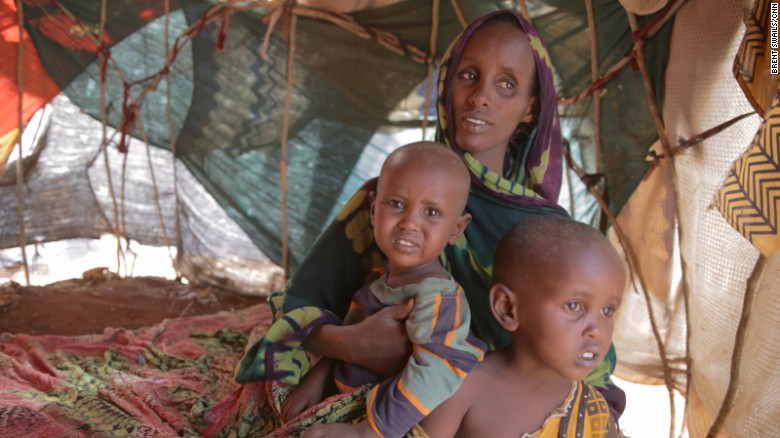 Risk of widespread famine looms over Somalia 02:09
"Shankaron had a fever, she cried the whole way," Fatumata says.
"We didn't eat this morning, we haven't had a proper meal in ten days. We are still waiting for food."
Fatumata's story is shared by millions of Somalis -- the country is on the edge of a catastrophic famine, according to the United Nations.
'Critical'
But even inside the camps, food is scarce.
It has been two weeks since Noor Ibrahim fled his village to seek help at the camp.
Cheeks sunken, he stands next to his shelter recalling tales of those in his village who had lost their lives.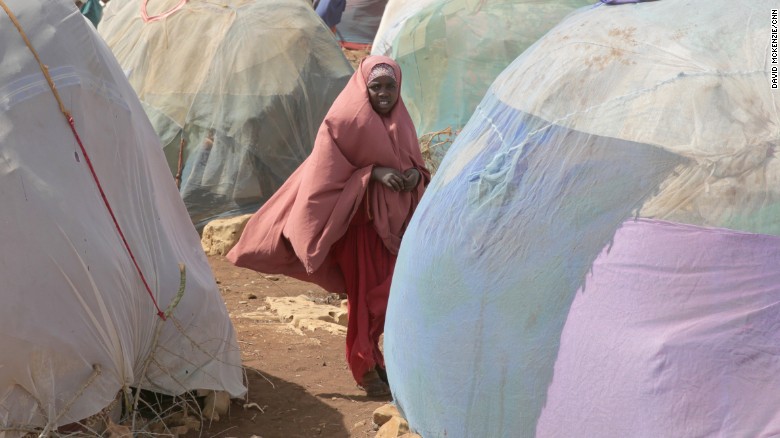 A young girl stands in front of makeshift shelters in Baidoa. More than 6 million people need food assistance in Somalia.
The drought, impending famine and the presence of Al-Shabaab, a terrorist group, have left the country and its people in a desperate situation.
"The situation is critical in Somalia. People are dying of hunger and there is no water," Ibrahim tells CNN.
"This drought is even worse than 2011. We haven't seen any food aid yet."
"Al-Shabaab blocks the roads, there is no access for food aid, the Shabaab steal food as well."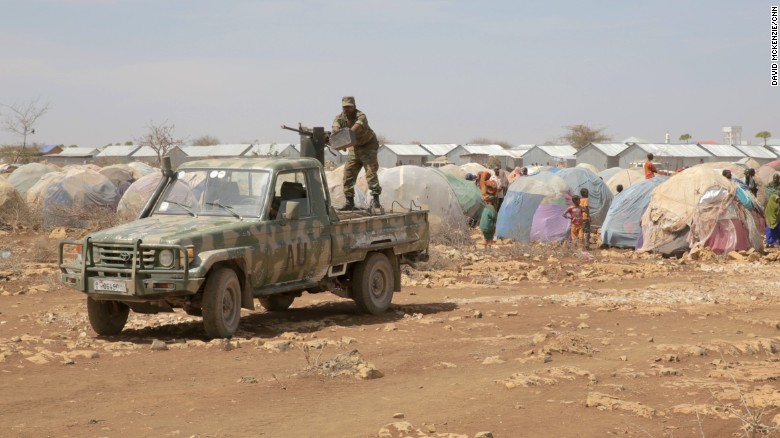 An African Union technical guards a UN mission in Baidoa, Somalia
'Neglected'
In 2011, more than a quarter of a million people died during a famine. The United Nations says that more than half died before the famine was even declared.
So the sense of urgency is not lost on those with the power to urge change.
UN Secretary-General Antonio Guterres -- who on Tuesday made his first visit to the country since taking up his role -- warned the crisis facing the Somali people had been "neglected" by the world.
"Let's not forget that each one of these people is an individual case of extreme suffering," he told CNN as the UN launched a new appeal.
"There is a moral obligation for us all to do everything we can to support these people."
Money is needed in Somalia -- and quickly. In addition to drought and famine, diseases, such as cholera and measles are beginning to spread.
The
International Organization for Migration
has warned that if "action is not taken immediately, early warning signals point towards a growing humanitarian crisis in Somalia of potentially catastrophic proportions."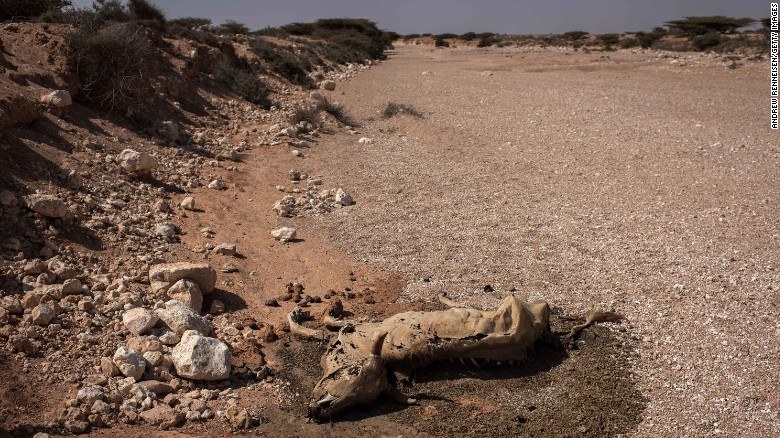 Drought is also a huge problem in Somalia.
Sitting in her makeshift shelter, Fatumata looks at here children Shankaron and 15-month old Rahma.
The future is far from certain. Somalia is at breaking point.
"All we ask or is for some help from the world, so we can be safe and survive," she says.
Now she waits for the world to respond.
CNN's James Masters contributed to this article.