sordo madaleno arquitectos has embedded a luxury residential building into the undulating terrain of suburban mexico city. as the site has an undulating topography, the design team sought to integrate architecture with the natural landscape. the elevated nature of the site also ensures that residents have panoramic views towards the city center. the scheme's architectural concept is based on a linear configuration, where folds in the volume respond to programmatic requirements.
UPDATE: this project was shortlisted in the 'housing, large scale – completed buildings' category at the 2018 world architecture festival.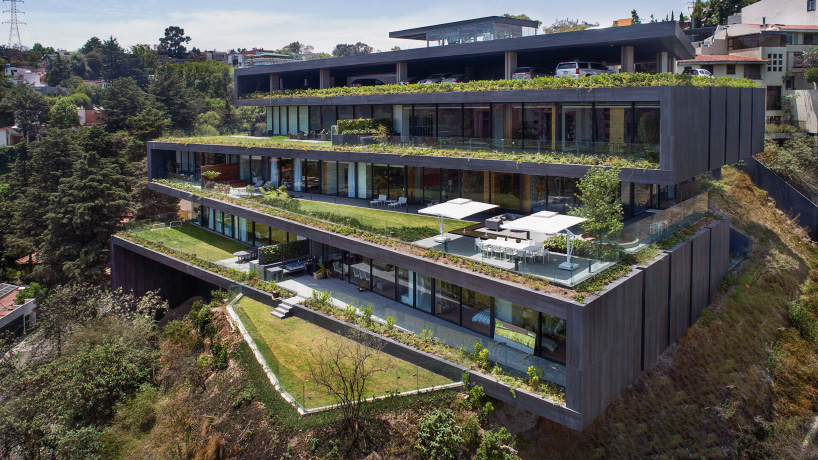 the luxury residential building is embedded into the undulating terrain
image © jaime navarro / sordo madaleno arquitectos (also main image)

the project, titled 'alcázar de toledo', comprises five levels that step down the hillside. vehicular access, guarded by a security booth, is located at the highest point, with a ramp that descends to a reception space. this area incorporates ten parking spaces for visitors and features an access ramp to the residents' parking (with 29 bays) below. level -2 houses two apartments, each measuring 500 square meters. level -3 contains the building's amenities — a pool, a spa, a gym, and a terrace — as well as another residence. finally, level -4, comprises two more apartments.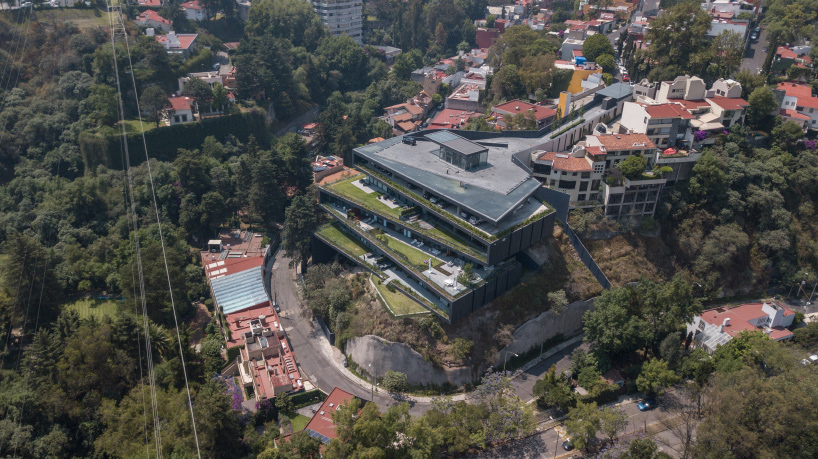 an aerial view of the uniquely situated development
image © HH fotografía / sordo madaleno arquitectos

each dwelling designed by sordo madaleno arquitectos offers different programming. three of the apartments are 3-bed homes, while the residence on level -3 includes an extra bedroom as well as a library and wine cellar. all units feature high ceilings, open-plan living areas, and generously proportioned windows that offer views, ventilation, and daylight. from an environmental standpoint, the gardened spaces provide shade while capturing rainwater for storage, treatment, and irrigation.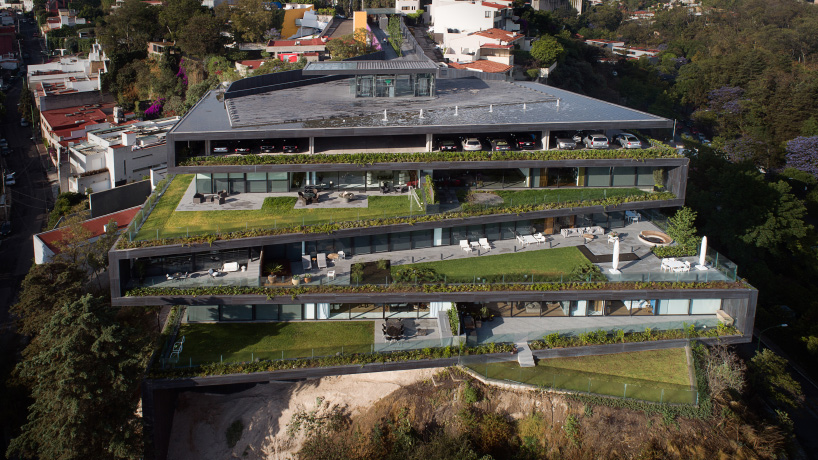 residents access their homes via the upper storey
image © jaime navarro / sordo madaleno arquitectos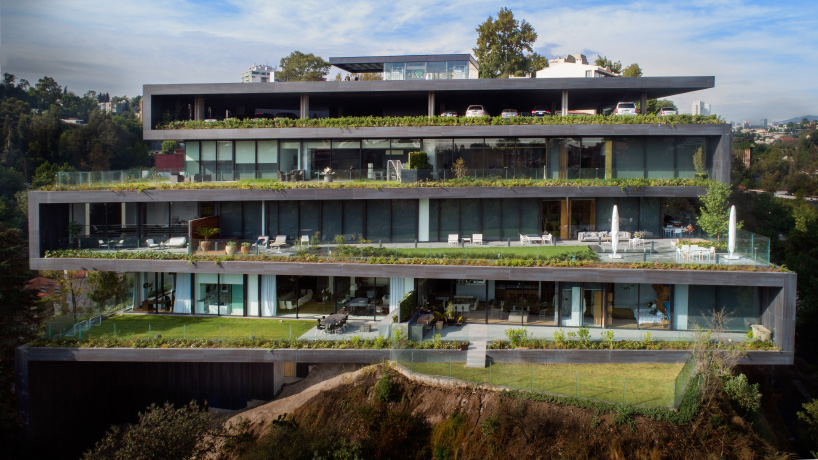 the building comprises five levels
image © jaime navarro / sordo madaleno arquitectos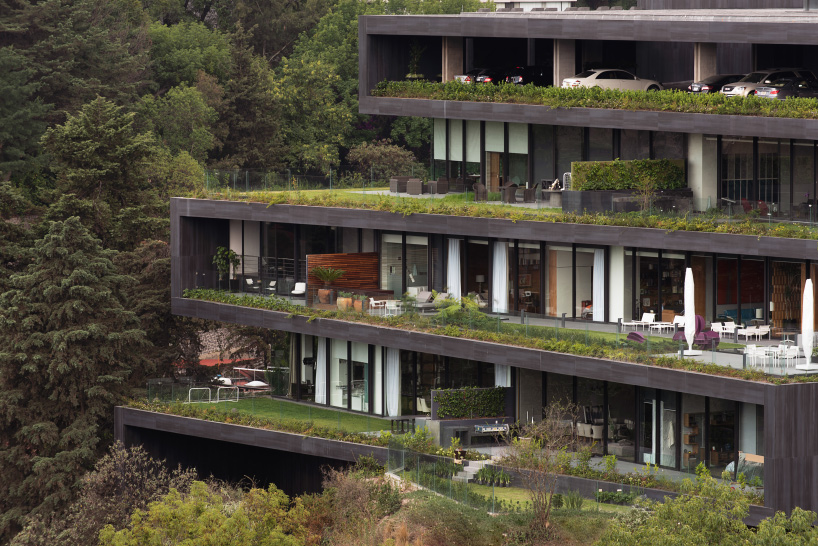 the gardened spaces capture rainwater for storage, treatment, and irrigation
image © jaime navarro / sordo madaleno arquitectos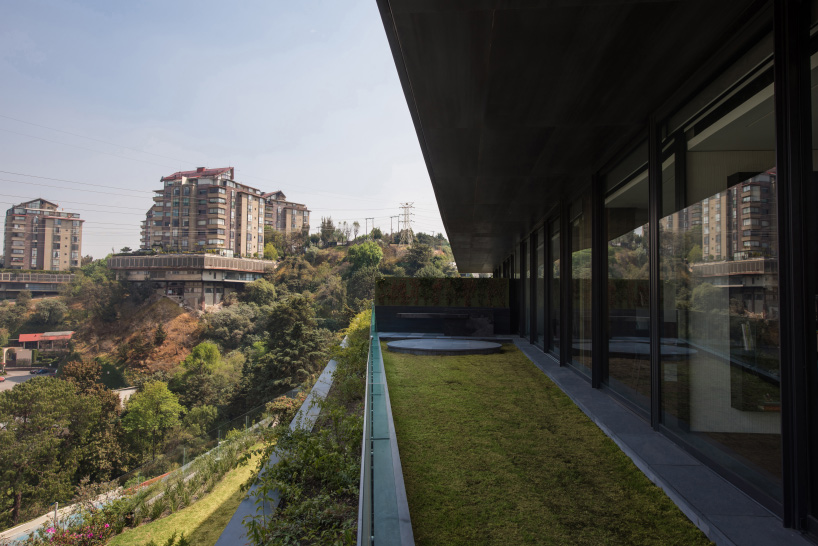 each of the five homes encourage outdoor living
image © jaime navarro / sordo madaleno arquitectos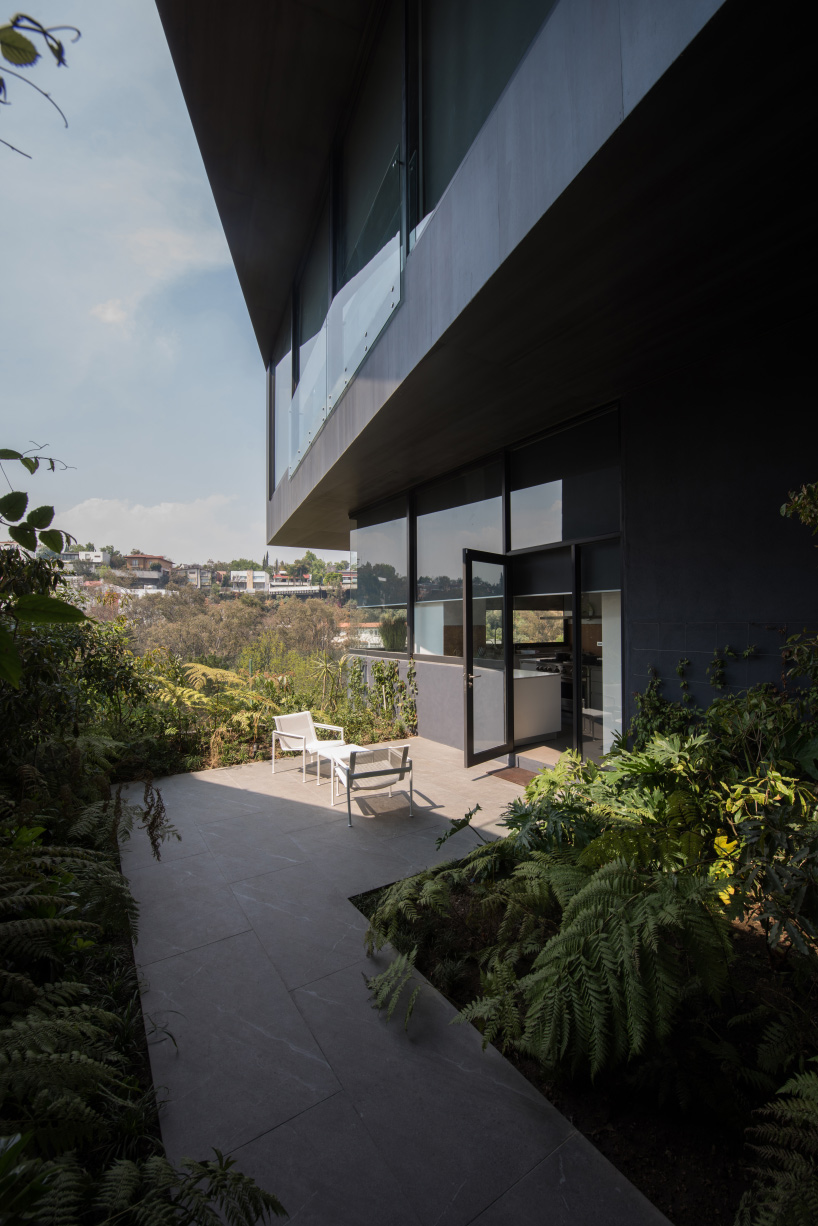 vegetation is found throughout the scheme
image © jaime navarro / sordo madaleno arquitectos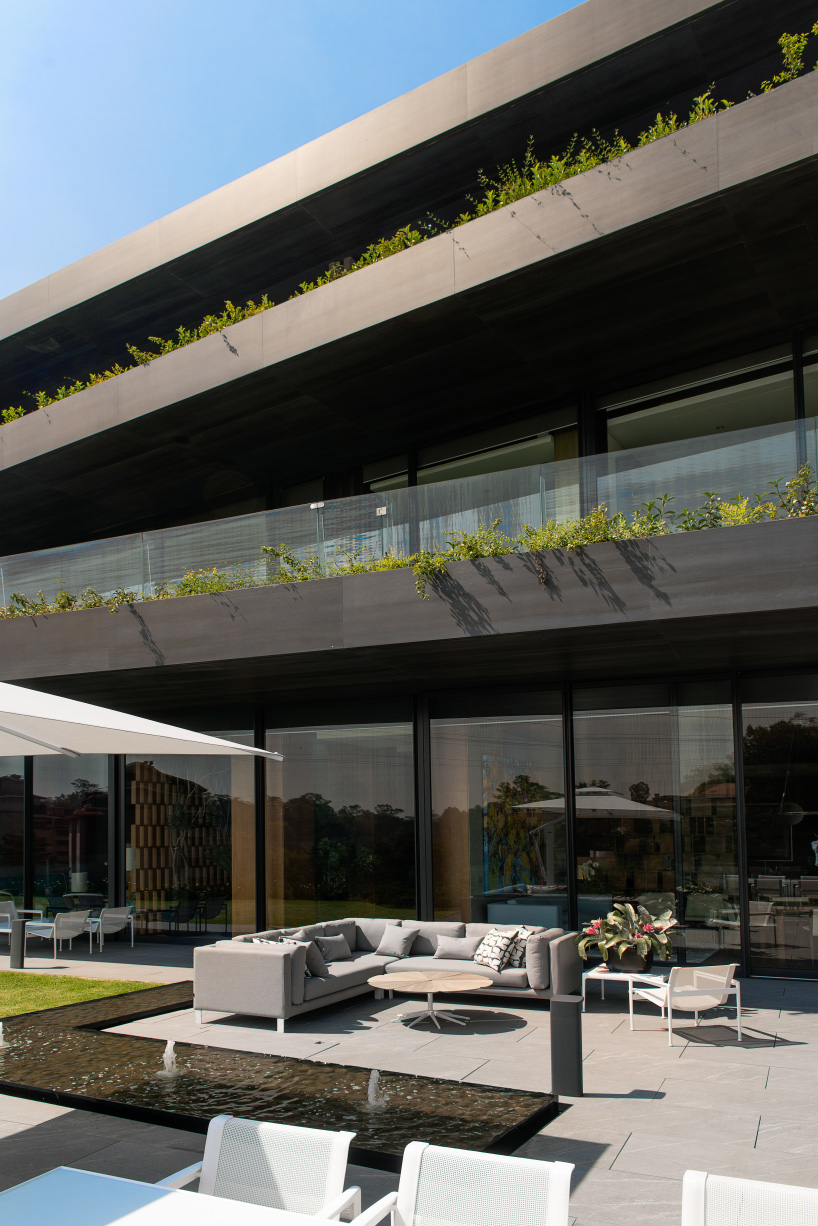 level -3 contains the building's amenities, including an outdoor terrace
image © jaime navarro / sordo madaleno arquitectos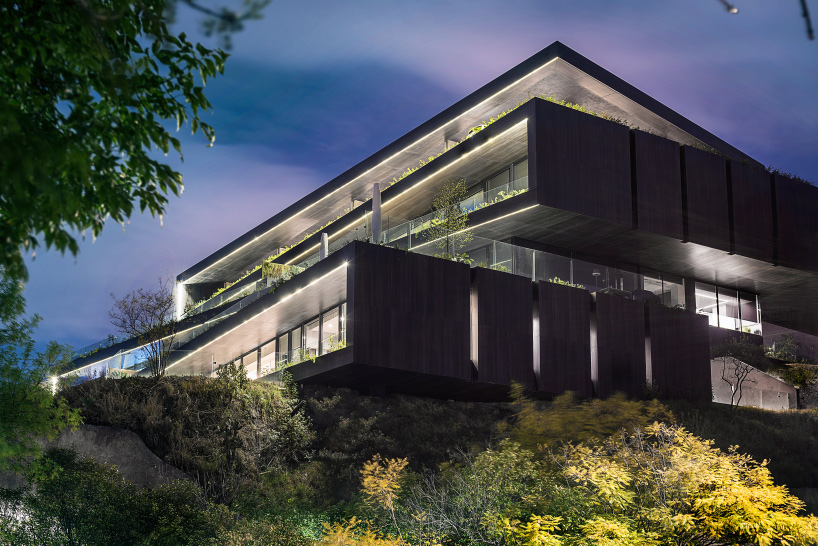 the building becomes dramatically illuminated by night
image © jaime navarro / sordo madaleno arquitectos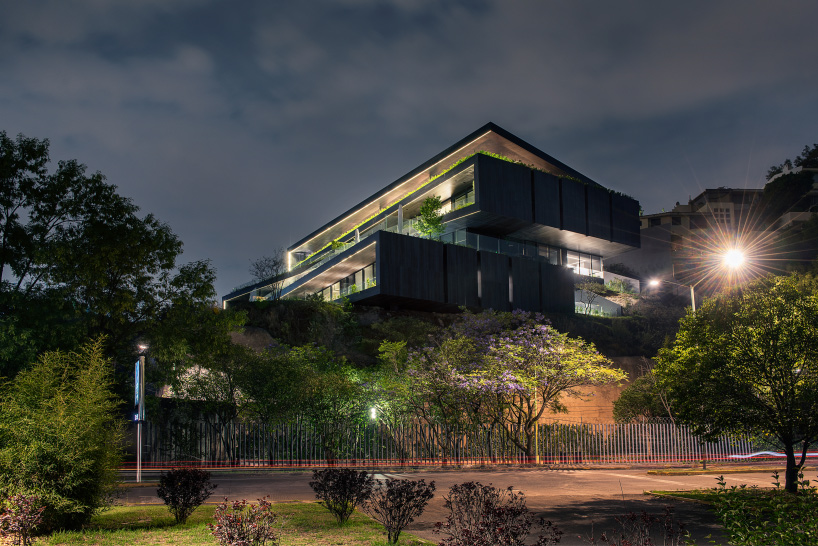 the design team sought to integrate architecture with the natural landscape
image © jaime navarro / sordo madaleno arquitectos

project info:

architectural project: sordo madaleno arquitectos
president: javier sordo madaleno bringas
architecture leader: javier sordo madaleno de haro
project leader: fernando sordo madaleno de haro
program: residential
construction area: 5,471 sqm
terrain area: 4,430 sqm
date: 2018
status: built
location: mexico city, mexico

architectural team
project manager: alejandro espejel
design team: miguel baranda estrada, iovany fuentes guerrero, david pazos tesorero
engineering coordination: marcos hernández
engineering team: héctor ruiz hernández
construction coordination: renan villareal moguel
media & marketing: rosalba rojas, daniela cruz, daniela rosas

interior design: sordo madaleno arquitectos
interior directors: nadia borrás
interior team: pilar ocejo
structural engineering: jaime palacios
electrical engineering: cien acres
air conditioning engineering: IP diseños
systems & special engineering: innovative designs
hydrosanitary engineering: IHS instalaciones hidráulicas y sanitarias
lighting consultant: vicente lasso
audio & video consultant: innovative designs
landscape consultant: gabayet paisajistas
security consultant: innovative designs
construction: terraforma
photography: jaime navarro, HH fotografía